How to use Sender ID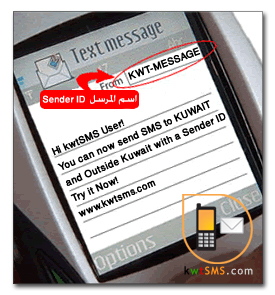 You may use the Sender ID option as follows:
Inside Kuwait:

8 Free Sender IDs: Sender IDs for all Kuwait Messages (Zain, Wataniya, VIVA).
Paid Sender ID: You may buy a sender ID with 15 KD and we can activate it next business day or more [Order Sender ID Now!]. Note, after payment made for SenderID, refund cannot be given for any reason.
The following are the business rules for Sender ID acceptance:

Sender ID should not be a landline/mobile number
Sender ID can be a hotline number. For example, 1801801. The company/individual requesting such a Sender ID must provide an official letter.
Sender ID can be a website.
Sender ID should not be a family name. For example, AlGhanim
Sender ID can have a family name if followed by the first name initials. For example, F.AlGhanim
Sender ID cannot be name only. For example, Fadi, Fahed, Bu Nabil, etc. It should be followed by family name initials
Sender ID cannot be a nickname. For example, ilta3ban, la3ub, etc.
Sender ID cannot be a noun. For example, Election, Promotion, Message, etc. It must be followed by or preceded with an adjective
Sender ID cannot be offensive language, even for foreign languages
Sender ID cannot be numbers with no meaning.
Sender ID cannot be start with special characters such as !, @, #, $, %,..etc.
Outside Kuwait (Other Countries):